By now everyone is aware of Sony's situation. On April 22, Sony revealed to the public that the Playstation Network was hacked and account data for 77 million users was potentially compromised. Four days later Sony publically admitted and confirmed the extent of the hack via a blog post. See IncGamers.com Hack timeline. It's been down for over two weeks now and expectations have been mismanaged regarding when it will be back online which has led folks to believe (duh) that Sony has some serious clean up to do – a la BP Gulf Oil Spill. The first step forward will be getting the network back up and running so that folks are able to play online games and consume subscription content. Next, the hard task of restoring faith in the secruity of its network will begin. Gamers' brand and consumer loyalty to Sony will be put to the ultimate test.
Over the past decade XBox and PS3 have been racing towards establishing themselves as the home media entertainment console, and a stand alone piece of technology that can connect networked devices and services through non-networked TVs. PSN members are pissed. Not only did their personal data end up in someone else's hands, but they have been completely disconnected from their entertainment community. Imagine how you would feel if Facebook or Twitter went down for two weeks.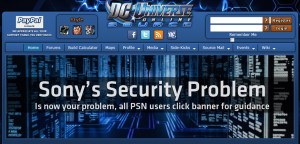 Now with a lack of free, readily available (easily searchable) consumption statistics for PSN, I can't tell you how many hours the average member spends playing online games vs. off-line games or what % of Netflix users watch movies through PSN. (Yes – Netflix subscribers can't download any movies while PSN is down.) What I can tell you is that just about every game on the shelf these days commands a $60 price tag because they claim to deliver a terrific "traditional" game and follow it up with extended online features that allow you to play against PSN members from around the globe.
In January, Sony Online Entertainment launched D.C. Universe Online as an Online-only title and consumers have to pony up a monthly subscription service of $14.99 a month to play the game. As a comic fan and super-hero movie fanatic who was already pumped for the releases of Thor, Captain America and Green Lantern this summer I seriously considered the game, but in the end I couldn't justify the cost. Hmmm… now I'm really glad that I did not make that purchase. But for those who did, and for the Netflix customers and Qriocity premium subscribers this hack has had revenue ripple effects which could shift consumers and content partners elsewhere - forever altering the PSN community.
For a casual gamer like myself, I bought a PS3 because it made sense. The blue ray player has made it very easy for my 30-something friends to justify the purchase. Once inside the house, you can't help but get a few games that will allow you to relive your youth and compete against your friends who have "grown up" and complete strangers from around the globe.
Microsoft stands to benefit the most and if I was a corporate conspiracy theorist, I would be pointing the fingers in their direction for leaving the "Anonymous" file found on the game servers. They have made headlines recently with a new CMO and advertising account shifts. Will it be long before the sharks move in? Blood is in the water and the opportunity is there to be very aggressive in an attempt to convert PSN members to XBox Live. If you were at Microsft, would you start discounting the price and offering trade-in rebates to get as many people over to an Xbox as you possibly could before Sony stabilizes? Or take the high road due to the sensitivity of the issue? I mean if Sony can be hacked, are you bold enough to claim that you are immune?
When it comes to data security, Microsoft should have a perceived and probably real competitive advantage. It will be interesting to see how Microsoft frames their XBox consumer messaging over the next few months and if the severity of the situation and the sensitivity of us all to our personal data results in console shifts. The end of innocence in gaming has arrived. Entertainment, convenience and security have converged like never before.
An important lesson learned for all online businesses and communities – infrastructure strength and integrity are crucial for establishing and keeping the trust needed to keep users on your platform. It seems like a no-brainer, but any crack in your Social foundation could cause the whole house to come crumbling down.
It will be interesting to see how this thing "plays" out. I for one, made my investment in a PS3 and PSN. It will take a lot of peer pressure and friends jumping ship before I cave in and make the switch. My credit cards have been canceled and I am willing to give Sony a chance to make things right. But, one more debacle like this in the future and two strikes could send PSN back to the dugout for a permanent pinch hitter.