The word "mobile" has become so synonymous with the cellular phone category that people tend to forget its true meaning. And in doing so, are confusing a state of motion with a device that can make phone calls (among many other things).
So what's the big deal. The industry has been calling itself "mobile" for years without anything but positive repercussions. Well, today we have multiple devices (tablets, smart phones, laptops, etc.) that can be considered mobile from a consumer marketing & analytics POV.
Back in 2009, the Mobile Marketing Association (MMA) updated their definition as follows: "
Mobile Marketing
is a set of practices that enables organizations to communicate and engage with their audience in an interactive and relevant manner through any mobile device or network."
Yahoo! didn't get the memo. See their "What is the mobile Internet?" page below.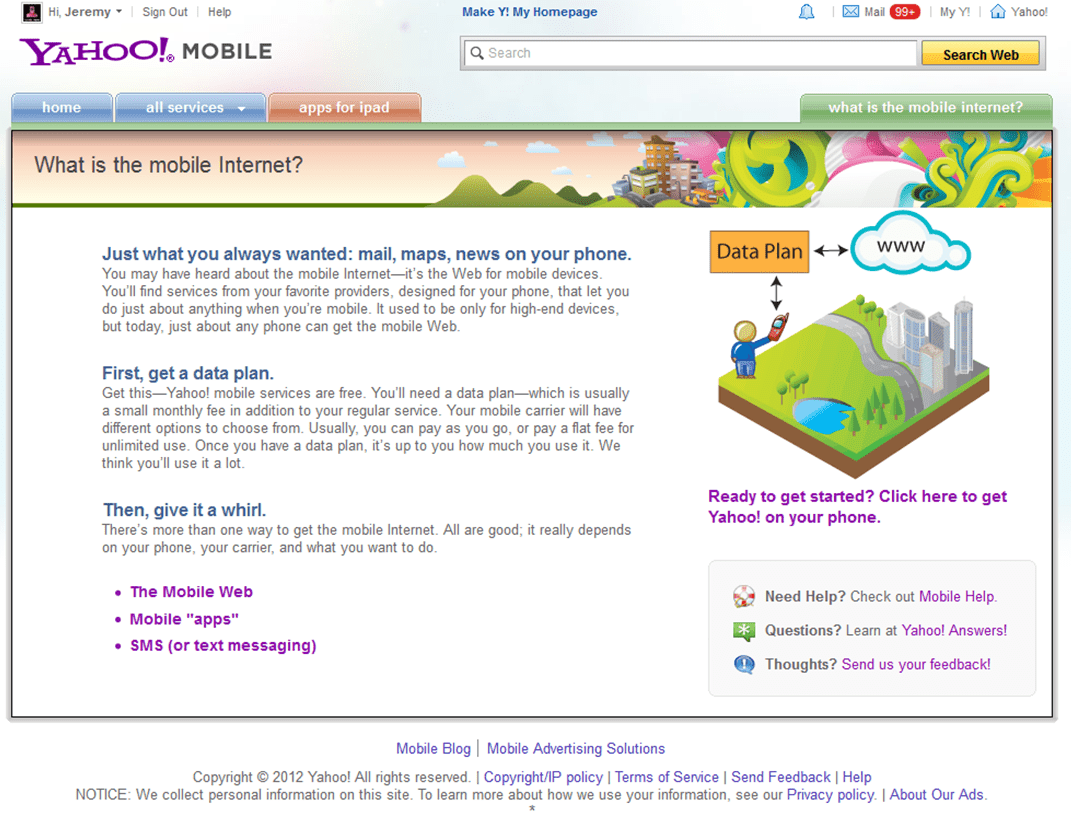 The big deal is that the marketing mindset needs to change when it comes to advertising, measurement, & strategy as it relates to mobile marketing vs. stationary marketing. Taking this approach and applying a true mobile playboook will create a more customized and relevant experience.
Are we really that far off from being able to understand whether a device (and the person using it)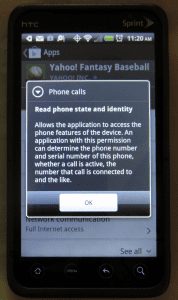 is in motion AND be able to deliver targeted messages accordingly? GPS, geo-fences, creepy app permissions (Yahoo! Fantasy Baseball app permissions), device recognition, etc. One would argue that the technology exists and is being used to do just this today (or will be soon).
Now, I have played Yahoo! Fantasy Baseball for years and am a huge fan of their product, but for the first time in a while I didn't update to the latest version of an app I use everyday because they wanted to have permission to "Read phone state and identity". Really? An application can determine the phone number and serial number of this phone… the number that call is connected to… no thank you.
So publishers please update your ad serving technology to provide more advertiser value. Advertisers please make your ads more relevant to provide consumers more value. Developers, don't creep us out with permissions or sell us out to people looking to buy our data. Consumers, please take the time to read the permissions and permission updates for the devices and apps you use to determine if this information is a fair value exchange for what you are getting.
But I digress. The true moral of this story is that mobile marketing (a la
Minority Report
) is coming right for us. Right Uncle Jimbo? But unlike Uncle Jimbo we can't just shoot it. We must evolve our way of thinking and embrace a mobile mindset responsibly.
South Park
is a registered trademark of Comedy Partners – no affiliation what so ever, view at your own risk. If you are offended, sorry. Its not me, it's them. [Insert legal disclaimer here.]