A few days before Christmas we received our holiday gift from Jet Blue, an email informing us that our direct flight on April 27th from St. Lucia to JFK was canceled. We were now on a flight home from our Honeymoon on Thursday, April 26th, a day earlier.
April 26th, seriously? After months of planning and coordination, our trip was in a tailspin and our options weren't appealing: 1. leave a day early (cancellation fees, less time in paradise, etc.) 2. leave a day later (extra food & lodging costs) 3. ticket refund (flights costing twice as much with multiple stops)
After initial discussions with JetBlue Customer Service left me responsible for the extra costs associated with their flight change, I did what every other rational human being would do – I took the conversation public with @JetBlue and vented some frustration.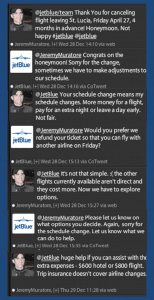 With all of the advancements companies have made in leveraging Social Media tools and technology, it is still apparent that it is window dressing. If a company has sketchy policies, loopholes, or business practices that put their customers second, than it doesn't matter how progressive or savvy your team is. Customers will still be left feeling unsatisfied and disgruntled.
Now, this is a special instance which probably falls outside the norm of the Jet Blue operational playbook. Schedule changes happen all the time and for many reasons, however in most cases these changes are on the same day. When the changes are on a different day, that's when the costs for the travelers go up exponentially (food & lodging). Factor in that this is St. Lucia and not Pittsburgh, PA and an extra day can end up costing quite a bit of money.
So why would JetBlue cancel the flight 4 months in advance. According to Customer Service, it was out of their control and that the schedule change was likely due to the airport or the transportation authority overbooking or not allowing extra planes to take off or land on that day. Well, Jet Blue only makes one flight out of St. Lucia a day. 4 months ahead of time, seriously?
After exploring other reasons for the schedule change a Customer Service agent said the change could be due to that day/flight historically being a low-performer. Hmmm. If the JetBlue cancels a flight because they don't expect it to be profitable, after they sold me a ticket, and gives me 3 options which all result in me having to pay more or experience less, shouldn't they take responsibility for it?
Now when I called and spoke to another Customer Service agent today, this time a supervisor, they re-enforced the 3 options that they had given me, were my only options and that it wasn't Jet Blue's fault. When I mentioned that JetBlue may be canceling the flight to improve their bottom line, she replied that their is no way to tell and that the information isn't readily available, but that isn't what JetBlue would do. It is important to mention that the Customer Service reps were friendly, understanding and empathetic, but bound to company policy.
So here's where it went to a new level of "seriously?". Since JetBlue cancelled the flight I can switch to a flight the day before or the day after or get a refund, but once I choose it's done. The "system" bumped us up to the flight on April 26th which is now coincidentally sold out after the Friday flight was canceled.
Now, try explaining to your Fiance that we need to leave our honeymoon a day early because JetBlue canceled our flight. Let's just say, the preferred option if we can swing the cost is to stay an extra day.
It took weeks to plan the honeymoon and if we wait a few days to re-arrange reservations with the hotel and our budget and then book the Saturday flight, there's a chance it will sell out too as other travelers react. The smart thing to do would be to change the flight reservation to Saturday so we have a spot and then research our options. However, JetBlue is only allowing one reservation change before initiating $100 per person change fees and tacking on any price difference to the ticket. Seriously?
Did I mention JetBlue is claiming no responsibility for the flight cancellation? Did I mention that we got placed on a flight that is now sold out after it was under booked? Did I mention this is four months in advance? Did I mention the travel insurance we purchased through JetBlue.com doesn't cover this scenario?
Yeh, seriously… Since JetBlue cancelled the flight and our trip wasn't changed due to something we did (illness, etc.) they told us we were on the hook for the additional expenses.
If there is a weather-related issue or something unfortunate that happens that is outside of JetBlue control and unexpectedly happens during the trip I can understand their position to not take any responsibility. This however is 4 months in advance, and we are now on a flight that was under booked and is now sold out.
JetBlue, we purchased what you were selling. If you are not able to deliver what we purchased, you are expected to make things right. This is a couple making the most expensive and important trip of their lives. By not doing so, this is how sentiment is impacted. This is how perceptions are changed. This is how customers are lost. This is how your PR bill goes up.
JetBlue you have the opportunity to be the hero of this story, but for right now you are cast in another role.